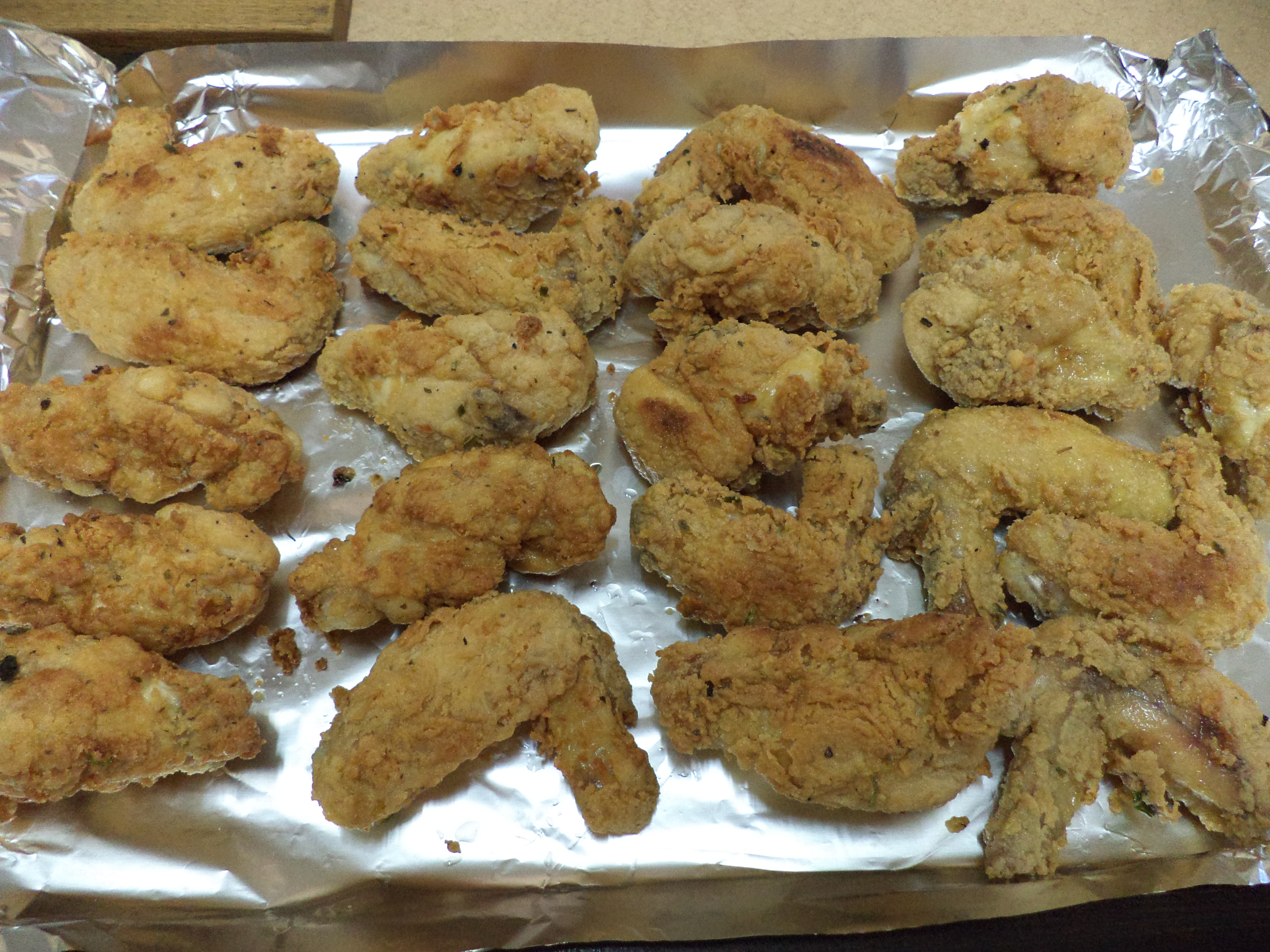 This is a wonderful recipe. My husband cooked it over the weekend. We love chicken wings and it is always a treat when Martin cooks this. Every time it tastes different… a new flavour, a new taste, a new sauce. He is the best sauce maker I know 🙂
Try this recipe and let me know what you think. It is Gluten Free and tastes supreme.
Enjoy the cooking 🙂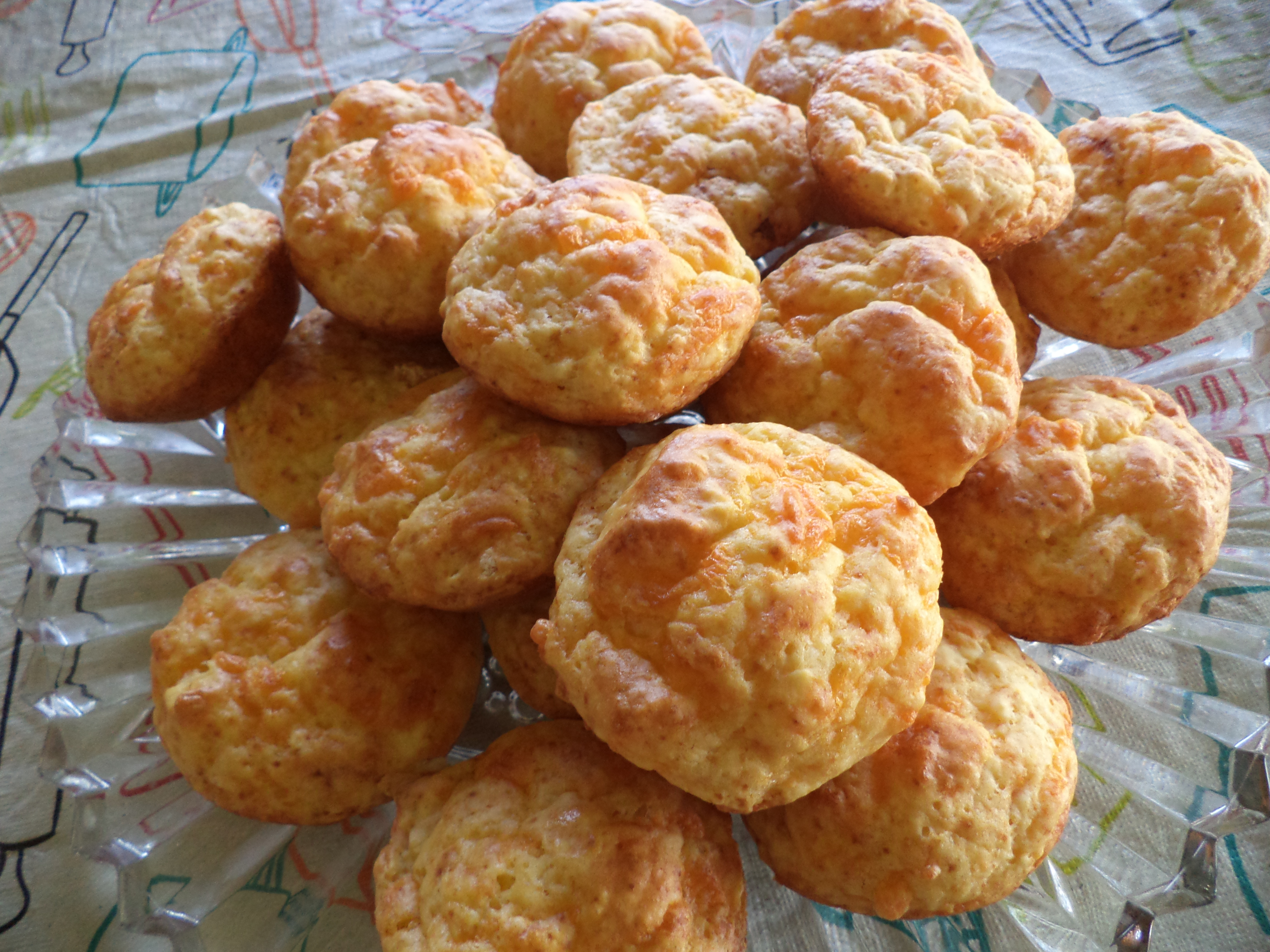 Cheese puffs is a favourite for both children and adults. Therefor it is a guaranteed hit for the whole family. Cheese puffs is a very easy recipe and quick to prepare. Get your children involved and let them help you. They will love it!
This recipe can very easily be made GLUTEN FREE.
Ingredients:
1 cup of flour (gluten free flour, a mixture of chick pea, white rice and tapioca flour)
2 teaspoons baking powder (gluten free baking powder)
1 cup of grated cheddar cheese
1 egg, filled up with milk to make one cup (250ml)
Method:
1. Sieve all the dry ingredients together
2. Add the grated cheese.
3. Mix the egg and milk mixture and add.
4. Pour spoons full into patty tins.
5. Bake in a pre-heated oven a 180 degrees celcius for between 15 and 20 minutes.
Serve the cheese puffs with butter and cheese, marmite or apricot jam. My favourite is a teaspoon full of cream. Nothing can beat the taste of the cream and jam combined. You have to try it!
This really is very easy to make and is a light snack that everyone will enjoy, anytime of the day! My mother used to bake this for us when we were growing up and we couldn't get enough of it! Now that I am married, I do the same. I love baking recipes my mother used to bake for us.
My husband loves South African recipes and putting a smile on his face is worth while!
If you are interested in purchasing my e-book, please click on this link and have a look.
If you would rather purchase the paperback copy from Amazon, and go have a look!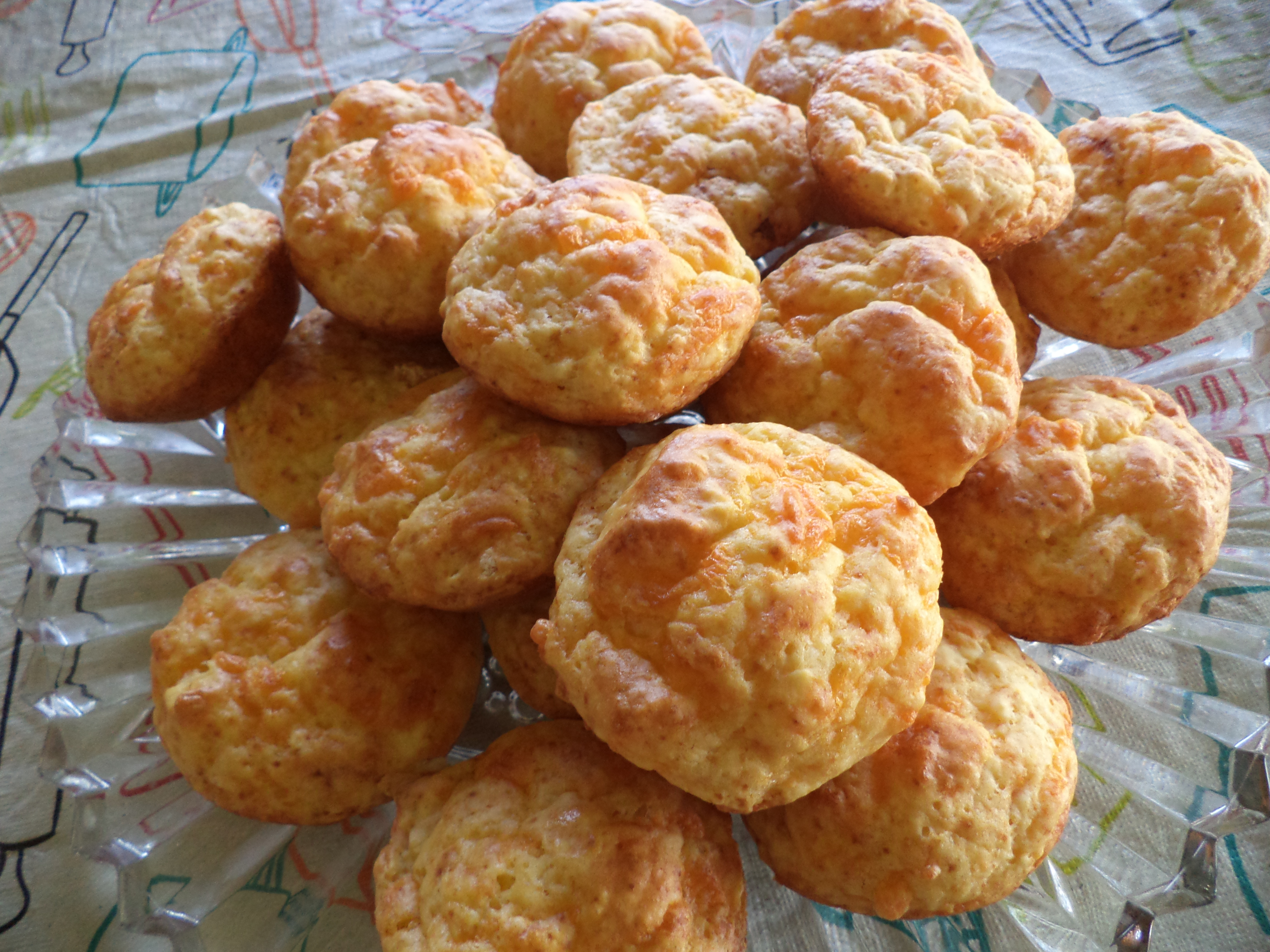 Kaaspoffertjies is die oulikste naam… klink so lekker vars en fluffy. Kaaspoffertjies is 'n groot gunsteling onder kinders en volwassenes. Hierdie resep is baie eenvoudig om voor te berei. Laat die kinders jou help, hulle sal dit vreeslik baie geniet.
Hierdie resep kan baie maklik gluten vry gemaak word.
Bestandele:
1 koppie meel (gebruik gluten vrye meel. Meng chick pea, wit rysmeel en tapioca meel saam)
2 teelepel bakpoeier (gluten vry)
1 koppie gerasperde kaas
1 eier, opgevul met melk in 'n koppie (250ml)
Metode:
1. Sif all die droeë bestandele saam.
2. Voeg die gerasperde kaas hierby.
3. Meng die eier en die melk saam en voeg by.
4. Skep lepelsvol in 'n klein muffin pannetjie (die kleintjies)- patty tins.
5. Bak in 'n voorverhitte oond teen 180 grade celcius vir tussen 15 en 20 minute.
Bedien die kaaspoffertjies met botter en kaas, marmite of appelkooskonfyt. My gunsteling is 'n teelepel vol room.
Hierdie is 'n ligte ete wat almal sal geniet, enige tyd van die dag. My ma het altyd die resep vir ons bemaak, nou maak ek dit vir my gesin. Probeer dit gerus.
As jy graag my resepteboek wil koop, kliek hierdie link… Dit sal jou na my e-book toe vat.
As jy belangstel in my sagteband boek, gaan besoek gerus Amazon.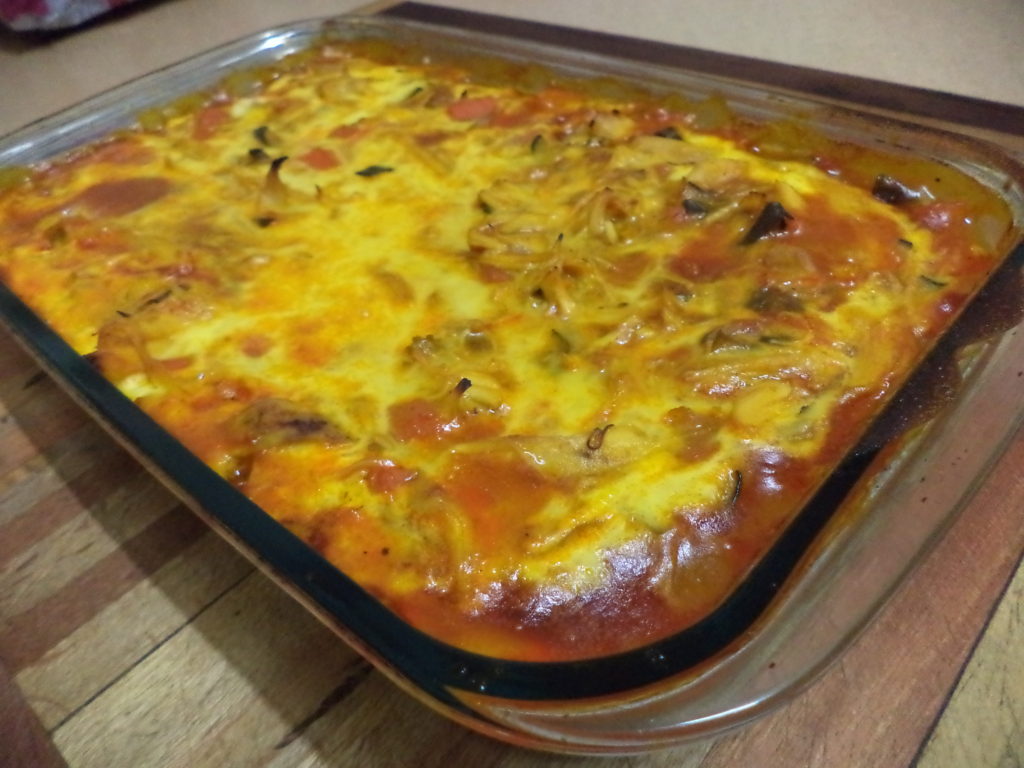 Bobotie is one of the proudest and oldest South African recipes. It was influenced and inspired by the slaves that came to South Africa. They brought with them their great spices and flavours, and Bobotie was invented!
Ingredients:
2 large onions
2 tablespoons butter
1 thick slice of white bread
1 cup milk
1 kg mutton (minced beef can be used as substitute)
2 ½ tablespoons strong curry powder
1 teaspoon turmeric
2 tablespoons apricot jam
2 almonds, quartered
¼ cup lemon juice (or vinegar)
2 teaspoons salt
½ teaspoon white pepper
¼ cup seedless raisins
1 green apple, grated
10 dried apricots, soaked and cut up (or apricot jam)
4 lemon leaves or dried bay leaves
2 eggs
Method:
1. Pre-heat the oven to 180°C. Lightly fry the onions in the butter.
2. Soak the bread in half the milk and mash with a fork.
3. Mix the meat with all of the ingredients except for the eggs, the rest of the milk and bay/lemon leaves.
4. Put the mixture in an oven proof dish. Push the lemon/bay leaves in on the top.
5. Cover and bake for about 40 minutes.
6. Beat the eggs and milk together and pour over the meat. Slightly lift it to allow the egg to run into the bobotie. Bake until brown on top (about 15 – 20 minutes).
To serve:
Serve bobotie with yellow rice and raisins. Side dishes that go great with bobotie and yellow rice are vegetables like green beans and sweet potato, or try potato salad.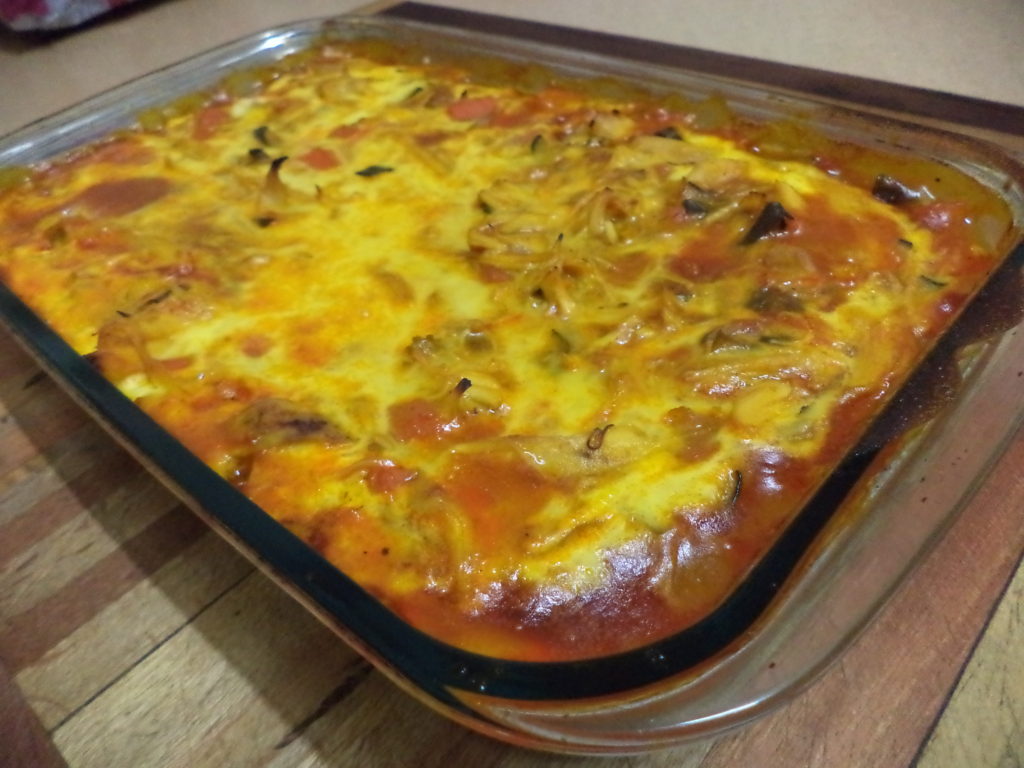 Bobotie is een van die trotste en oudste resepte in Suid-Afrika. Hierdie wonderlike resep is geïnspereer deur die Maleise slawe en hulle wonderlike speserye en geure.
Bestandele:
2 groot uie
2 eetlepels botter
1 dik sny wit brood
1 koppie melk
1 kg gemaalde beesvleis
2 ½ eetlepels sterk kerriepoeier
1 teelepel borrie
2 eetlepels appelkooskonfyt
2 amandels in kwarte gesny
¼ koppie suurlemoensap (of asyn)
2 teelepels sout
½ teelepel wit peper
¼ koppie pitlose rosyntjies
1 groen appel, gerasper
10 gedroogde appelkose, geweek en gesny (of appelkooskonfyt)
4 suurlemoenblare of gedroogde "bay leaves"
2 eiers
Metode:
1. Voorverhit die oond tot 180°C. Braai die uie in botter.
2. Week die brood in die helfte van die melk en druk fyn met 'n vurk.
3. Meng die vleis saam met die res van die bestandele (behalwe vir die eier, die res van die melk en die "bay leaves")
4. Skep die mengsel in 'n oondvaste pan en druk die blare bo-op.
5. Bak in die oond vir omtrent 40 minute.
5. Klits die eiers en die melk saam en gooi bo-oor die mengsel. Lig die vleis effens sodat die eier effens in die bobotie kan inloop.
6. Bak tot bruin bo-op vir 'n verdere 15 – 20 minute.
Bedien:
Bedien die bobotie met geelrys en rosyntjies. Aartappelslaai gaan ook heerlik hiermee saam.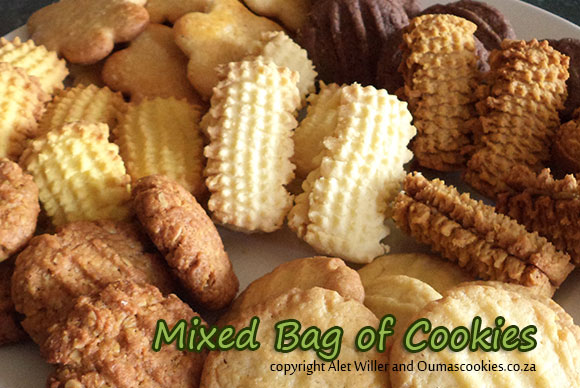 I don't know of any other desert that is as quick, easy or lovely as a Roly Poly to make. All you need to do is prepare the pudding and then place it in the oven when you serve your main course. By the time the main course is finished, desert will be warm and ready to serve!
In South Africa we enjoy this great pudding with apricot jam. In England they tend to enjoy everything with strawberry jam. But if I can recommend one, it would be the apricot jam. You have to try it at least once.
Ingredients of desert:
1 cup of flour
2 teaspoons of baking powder
1 egg
A pinch of salt
2 tablespoons of butter
Ingredients for syrup:
2 cups of water
1 cup of sugar
Method:
1. Rub the butter in with the flour, baking powder and salt.
2. Beat the egg and mix with a little bit of milk. Add to the above.
3. Roll out the dough and spread apricot jam on top.
4. Boil the ingredients for the syrup together and pour into the dish you are going to use to bake the pudding in.
5. Roll up the dough and place in the boiling syrup.
6. Bake the desert in 'n pre-heated oven at 180 degree celcius for 25 minutes.
Serve the Roly Poly warm as it comes out of the oven with custard or ice-cream. It tastes great on warm and cold days, so don't worry if it is not winter. Ice-cream is a great treat on a hot, warm, summer's day. Enjoy!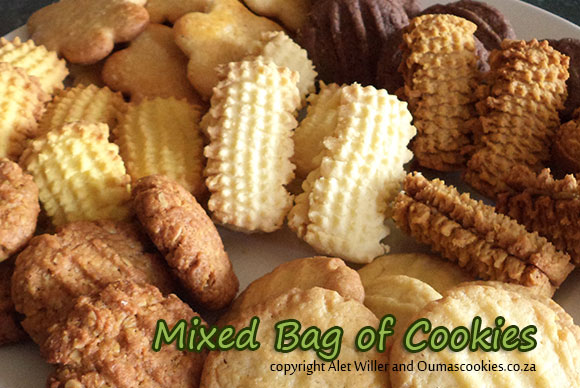 Hierdie is seker die vinnigste en maklikste gebakte poeding resep wat ek ken. Al wat jy nodig het om te doen is om die poeding voor te berei en in die oond te sit terwyl jy jou hoofgereg bedien. Teen die tyd wat julle klaar geëet het is die poeding lekker warm en net gereed om bedien te word…
Hierd in Suid-Afrika bedien ons als met appelkooskonfyt, so natuurlik is dit nodig vir die poeding ook…. As jy in Engeland is, gebruik gerus arbeikonfyt. As ek egter 'n voorstel kan maak, probeer die appelkooskonfyt, dit is 'n wenner.
Bestandele vir poeding:
1 koppie meel
2 teelepels bakpoeier
1 eier
A knippie sout
2 eetlepels botter
Bestandele vir stroop:
2 koppies water
1 koppie suiker
Metode:
1. Vryf die botter, meel, bakpoeier en sout met jou vingerpunte saam.
2. Klits die eier en meng met 'n bietjie melk. Voeg by bogenoemde mengsel.
3. Rol die deeg uit en smeer appelkooskonfyt bo-oor.
4. Kook die bestandele vir die stroop saam en gooi in die houer waar jy die poeding in gaan bak.
5. Rol die deeg op en sit in die kokende stroop.
6. Bak die poeding in 'n voorverhitte oond teen 180 grade celcius vir 25 minute.
Bedien die Roly Poly warm wanneer dit uit die oond uitkom met vla of roomys. Ek verkies my vla altyd yskoud, so ek bêre dit in die yskas. Jy kan die vla warm ook bedien as jy dit so verkies. Geniet!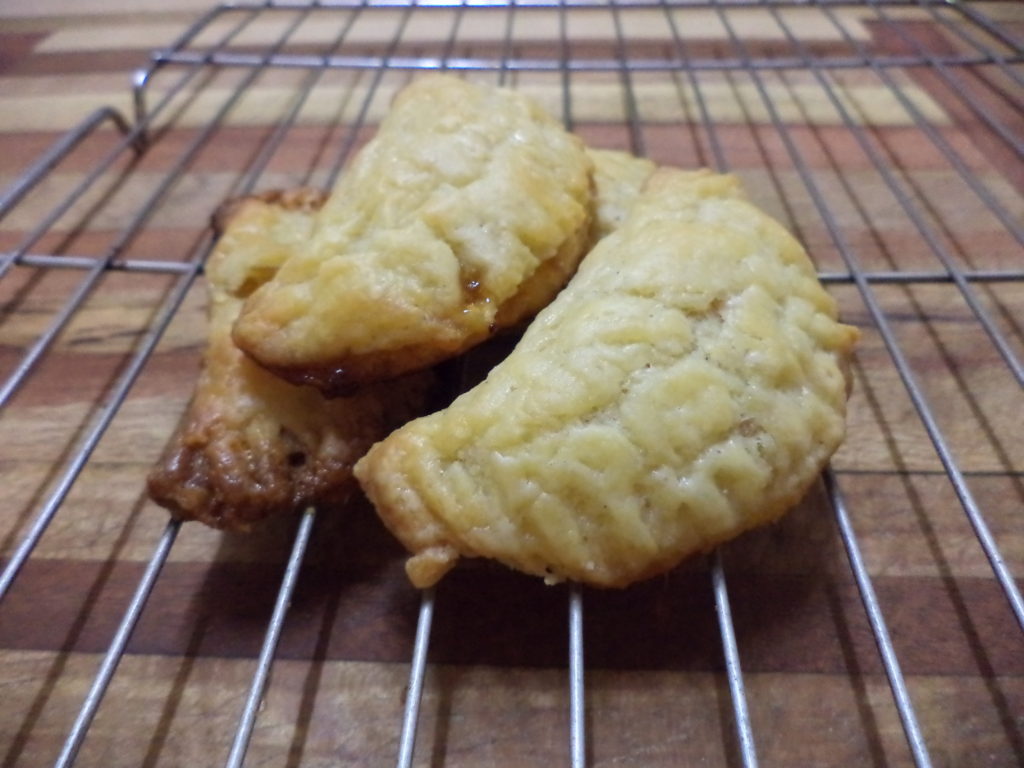 I don't know about all of you, but when I was growing up, my mother used to make these on a regular basis. Now I do the same and enjoy every minute of it. Handtertjies is a very soft flaky pastry filled with apricot jam and baked until light brown. It tastes great when it just comes out of the over, but can be enjoyed either warm or cold.
Here is the recipe, and remember to use apricot jam! If you are in England, I know, you all love strawberry jam, and it will work just as well. Choose the one you prefer and off you go…
Ingredients:
1/2 lb butter (margarine is also fine, but the butter gives it a nicer taste)
2 cups of flour
1 teaspoon of cream of tartar
'n pinch of salt
1/2 cup of ice cold water (just enough to bind)
Method:
1. Use you fingers to rub the butter in with the flour, salt and cream of tartar. (It is easier to freeze the butter and grate it in!)
2. Mix the water and fold in with a knife..
3. Bind the dough, cover with a cold wet cloth and leave in the refrigerator for about 30 minutes.
4. Roll out the dough and use a round shaped cookie cutter. Place one or 1/2 teaspoon of jam in the middle and fold over, making a half moon.
5. Press around the outside with a fork.
6. Smear milk on the top and bake in a pre-heated oven at 200 degrees Celsius for about 15 – 20 minutes, until light brown.
Eat and enjoy!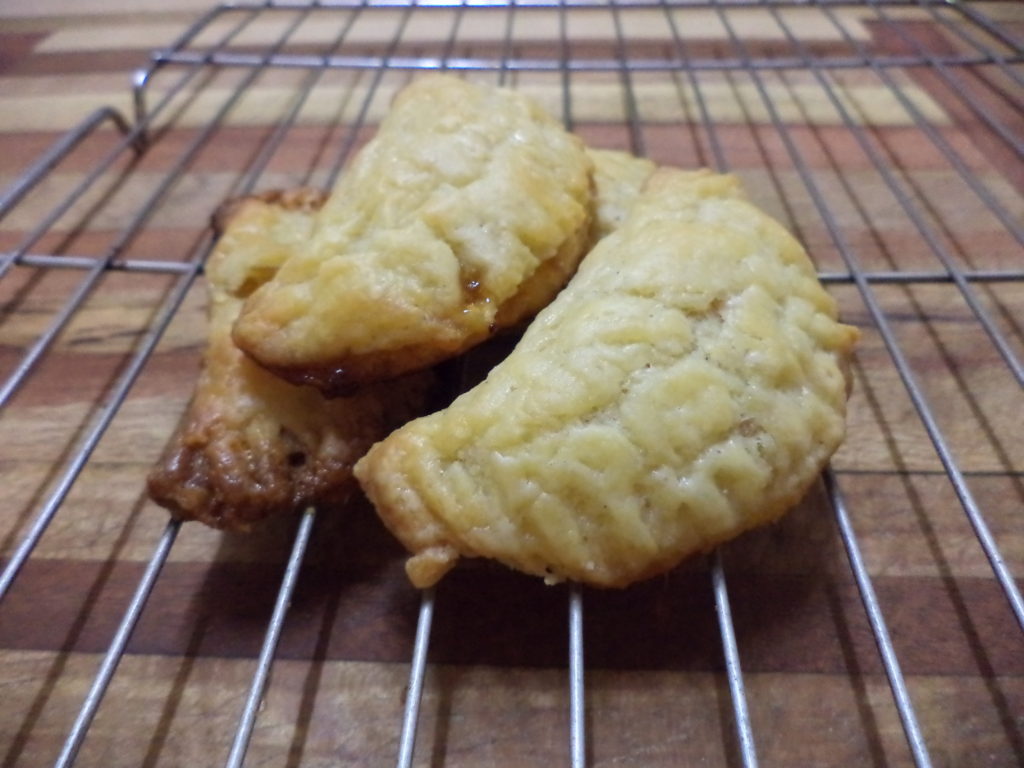 Ek weet nie van julle nie, maar toe ek grootgeword het het my ma hierdie heerlike handtertjies op 'n gereelde basis gemaak. Daar is darem maar nie veel dinge lekkerder as appelkooskonfyt nie. My mond water sommer net as ek net daaraan dink… Handtertjies is heerlik bros en sag aan die binnekant gevul met die heerlikste warm appelkooskonfyt…
Hier volg die resep. As jy in Engeland bly sal jy dalk arbeikonfyt verkies, maar ek hou baie meer van appelkooskonfyt.
Bestandele:
1/2 pond botter (margarine werk ook baie goed)
2 koppies meel
1 teelepel kremetart
'n knippie sout
1/2 koppie yskoue water (net genoeg om die deeg te bind)
Metode:
1. Vryf die meel, sout en kremetart en botter met jou vingers in. (Dit werk makliker as jy die botter inrasper)
2. Meng die water en vou in met 'n mes..
3. Bind die deeg, maak toe met 'n koue lap en los in die yskas vir omtrent 30 minute.
4. Rol die deeg uit en gebruik 'n ronde koekiedrukker om jou terjies mee uit te druk. Plaas 'n 1/2 teelepel appelkooskonfyt in die middel van die tertjie. Vou die een kant van die tertjie oor die konfyt en druk op die anderkant van die deeg vas (in 'n halfmaan).
5. Gebruik 'n vurk om die buitekant vas te druk sodat die konfyt nie uitkook nie.
6. Smeer melk bo-op die tertjies en bak in 'n voorverhitte oond teen 200 grade Celsius vir 15 – 20 minute tot lig bruin.
Eet en geniet 🙂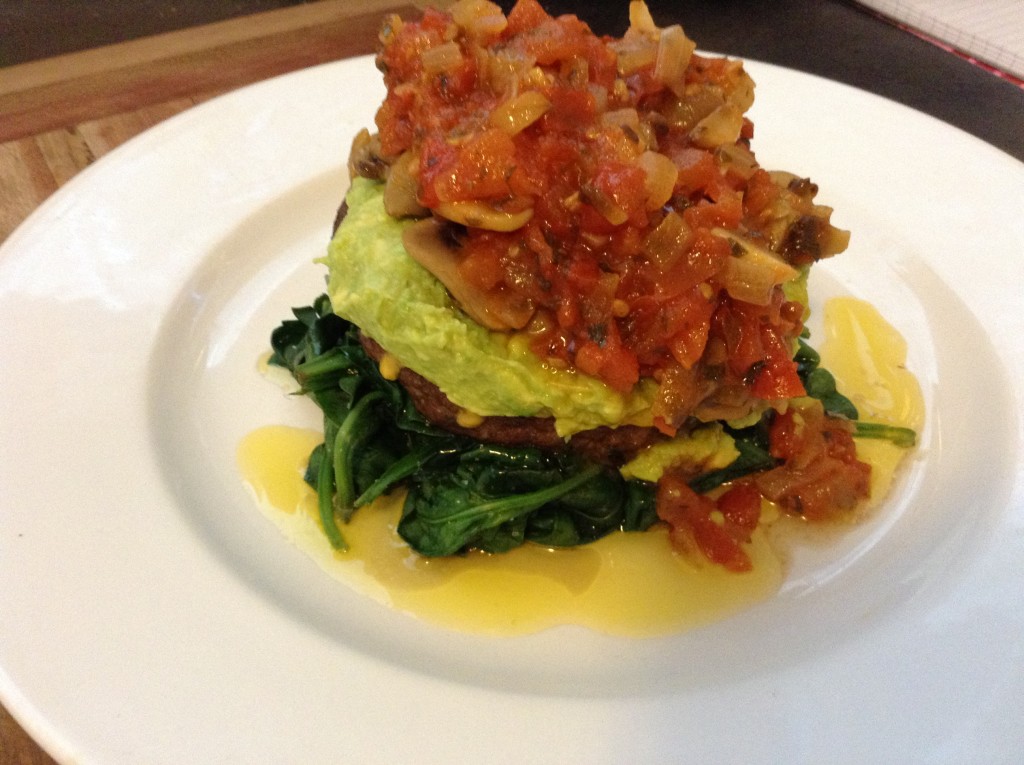 Pumpkin is one of South Africa's favourite vegetables. Most restaurants serve pumpkin and spinach as vegetable side dishes with main meals and all mothers buy it for their families. There are many ways in which you can serve the great varieties of pumpkin available like butternut squash, herbert squash, "boer" pumpkin or red pumpkin, to mention just a few.
Not all types of pumpkin are in season and therefor available all through the year, so you have to use the one that is in season at a certain time. The most common and quickest way to prepare pumpkin is to boil it in a little bit of water, season lightly with salt and add some cinnamon. Otherwise you can mix the pumpkin with flour, salt and egg and bake "pampoenkoekies" in a little bit of oil, sprinkle with cinnamon sugar and serve warm.
Another favourite recipe from times gone by, a truly traditional South African recipe, is "pampoenmoes". You can either bake this in the oven or boil it in a little bit of water in a saucepan. This is a recipe worth trying:
Ingredients:
8 slices of white bread
Butter
Apricot jam
2 cups of pumpkin (1 butternut squash should do. Slice very thinly)
Salt
Sugar
Cinnamon
Method:
1. Butter the bread on both sides and spread apricot jam on the side facing up. Place one layer in an oven proof glass dish, jam facing up.
2. Cut the pumpkin thinly, season lightly with salt and place on top of the bread.
3. Mix the sugar and cinnamon together and sprinkle over the pumpkin.
4. Repeat this until all the pumpkin and bread is used up, finishing with a layer of pumpkin. Dot a few extra clots of butter on the top.
5. Bake for 45 minutes to an hour in a pre-heated oven of 180°C
Serve the pumpkin hot with vegetables and maybe a lovely chicken dish, maybe a pie? This is a great dish to try and impress your friends with. It is very easy to make, so try it and see what happens!