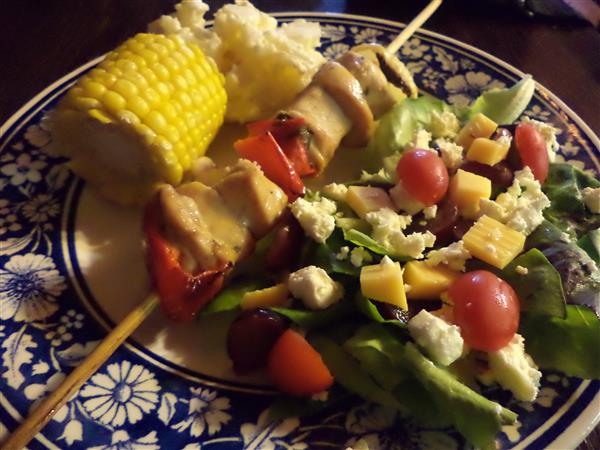 Aaaaahhh….. sosaties is a wonderful invention. What can be easier than taking meat, cubing it and putting it on a stick… Only work that goes into it is the marinade (and that is very fast) and off you go.
We decided to have sosaties last week but it was a bit wet outside, so instead of having a braai (BBQ) as usual, I decided to make the sosaties and grill them in the oven.
I know it is not the same as cooking on the braai, but it had to do and it sure did. I put together a quick marinade. Have a look at this:
Ingredients:
Chicken cubes (we used 5 chicken breasts)
Red pepper (I prefer the red to the green, tastes a bit sweeter)
Onions
4 tablespoons of olive oil
Squeeze the juice of 1 large lemon into the oil
1 tablespoon of soy sauce (we use a gluten free sauce)
Salt (to taste)
Fresh parsley, finely chopped
Mix everything together and add the chicken, peppers and onions. Let it marinade for at least 2 hours, longer if you have time.
Remember to soak the sticks you are going to use in water beforehand, it stops the sticks from burning too much.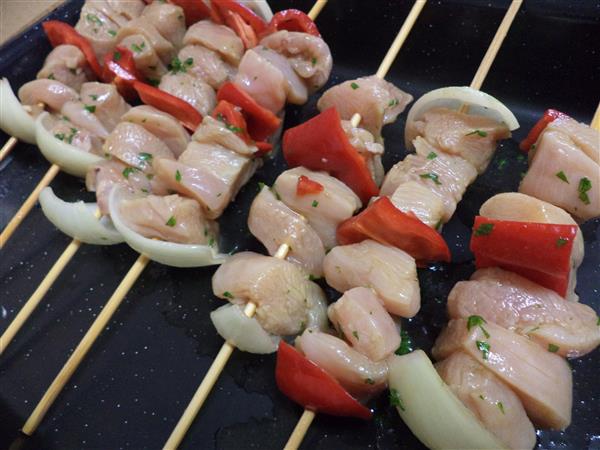 Place the chicken, peppers and onions on the sticks and grill in the oven. It doesn't take too long. I heated the oven to 180 degrees Celcius.
Make your own and show us your photos 🙂