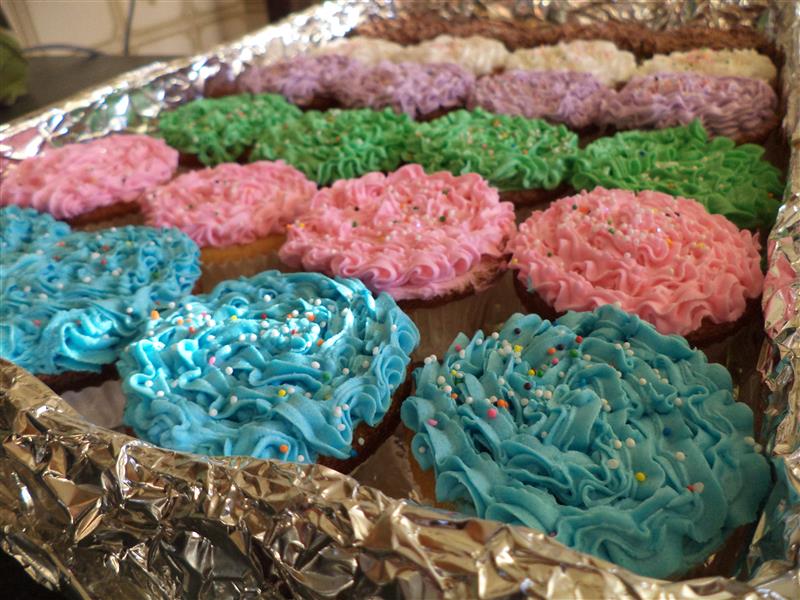 This mixture can be used to either bake one large cake or cup cakes. Depends on what you are in the mood for… This sponge cake is very light and tastes wonderful with the orange.
Ingredients:
1 cup of margarine or butter
1 ½ cups of sugar
1 cup of corn flour(maizina)
1 cup of milk
4 eggs
2 cups of flour
2 teaspoons baking powder
A pinch of salt
1 teaspoon of vanilla extract
1 teaspoon of grated orange peel
Method:
1. Cream the butter and sugar together.
2. Mix the corn flour with ½ a cup of milk and add.
3. Beat the eggs very well and add to the mixture.
4. Sieve the dry ingredients together and add, taking turns with adding the milk as well.
5. Lastly add the vanilla and orange peel. Mix well and pour the mixture in a round cake pan.
6. Bake in a pre-heated Bak at 180°C for about 50 minutes until light brown.
If you are baking the cup cakes, you shouldn't need to bake them for longer than about 20 minutes. Decorate them in any colour you feel like… Let the children help 🙂
If you live in Vereeniging in South Africa and want to order cup cakes instead, why not visit our Ouma's Cookies site 🙂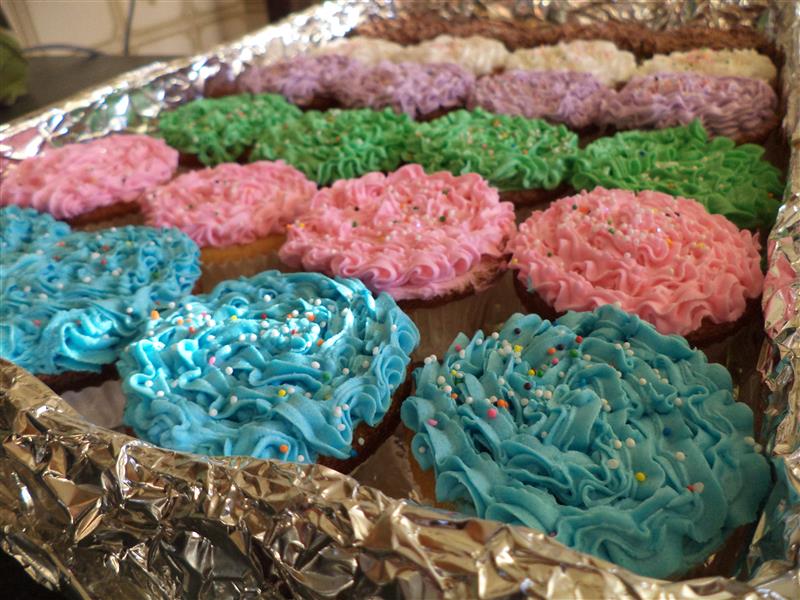 Hierdie mengsel kan gebruik word om een groot koek te bak en kan versier word met botterversiering en "hundreds and thousands". Dieselfde mengsel kan ook gebruik word om individuele "cup cakes" mee te bak.
Bestandele:
1 koppie botter/margarine
1 ½ koppies suiker
1 koppie mielieblom (maizina)
1 koppie melk
4 eiers
2 koppies koekmeel
2 teelepels bakpoeier
'n Knippie sout
1 teelepel vanilla geursel
1 teelepel gerasperde lemoenskil
Metode:
1. Room die botter en suiker saam.
2. Meng die mielieblom met 'n ½ koppie melk en voeg by.
3. Klits die eiers baie goed en voeg by die mengsel.
4. Sif die droë bestandele saam en voeg om die beurt met die res van die melk by.
5. Voeg vanilla en lemoenskil laaste by. Meng goed en gooi in 'n ronde of vierkantige
pan.
6. Bak in 'n voor-verhitte oond teen 180°C vir omtrent 50 minute tot ligbruin.
Indien jy kolwyntjies bak kan die bak tyd aangepas word. Behoort nie langer as so 20 minute te bak nie. Versier sommer met enige kleur versiersuiker 🙂
As jy in Vereeniging Suid-Africa bly en jy wil eerder kolwyntjies koop, besoek gerus ons Ouma's Cookies webblad…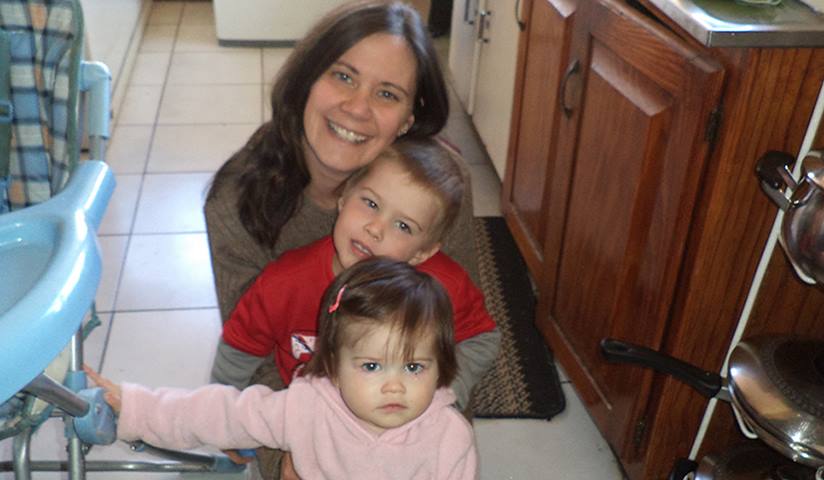 As ek eerlik moet wees is daar nie VREESLIK baie wat ek kan onthou van wat ek op Laerskool geleer het nie… My brein absorbeer Inligting, dit weet ek beslis, maar wat bly en wat nie is nogal 'n interessante konsep. Daar is ook baie Inligting in my brein wat ek weet, maar kan vir jou glad nie vertel wanneer of waar ek dit geleer het nie.
Daar is egter iets wat in my brein vasgesteek het toe ek dit gehoor het. Op Laerskool het ons die wonderlikste skoolhoof gehad. Meneer van Zyl was 'n lieflike man. Hy het altyd so sag met die kinders gewerk, baie geduldig maar tog ook streng en ferm en baie goed gesproke. Hy het altyd die wonderlikste woorde gebruik en die mooiste suiwerste Afrikaans gepraat…
Ek onthou nog die oggend toe ons op die aantrevlak aangetree het in die oggend voor skool begin het. Ons het soos altyd geopen met gebed en Meneer van Zyl het met ons gesels. Hy het vir ons vertel dat dit klopdisselboom met hom gaan. 'n Groot woord wat ek nie verstaan het nie, maar hy het vir ons mooi verduidelik.
As dit so goed met jou gaan dat dit nie beter kan gaan nie, dan gaan dit klopdisselboom. Dink net… so goed dat dit nie beter kan gaan nie. Hierdie woord het van daardie oomblik af in my kop vasgesteek en ja, as ek aan die woord dink dan glimlag ek sommer breed van oor tot oor.
Elke oggend as mense my vra hoe dit gaan dan sê ek goed dankie, en omtrent 2 sekondes na my antwoord dink ek, ek moes gesê het klopdisselboom  So volgende keer as iemand vir jou vra hoe gaan dit, bly eers stil vir 2 sekondes, glimlag en vertel dat dit gaan klopdisselboom dankie. Dan kan jy ook verduidelik wat dit beteken.
Hierdie is 'n wonderlike mondvol woord wat net heerlik lekker oor jou tong sal rol. Hoe gaan dit vandag met jou? Met my gaan dit sommer klopdisselboom baie dankie!!!!!