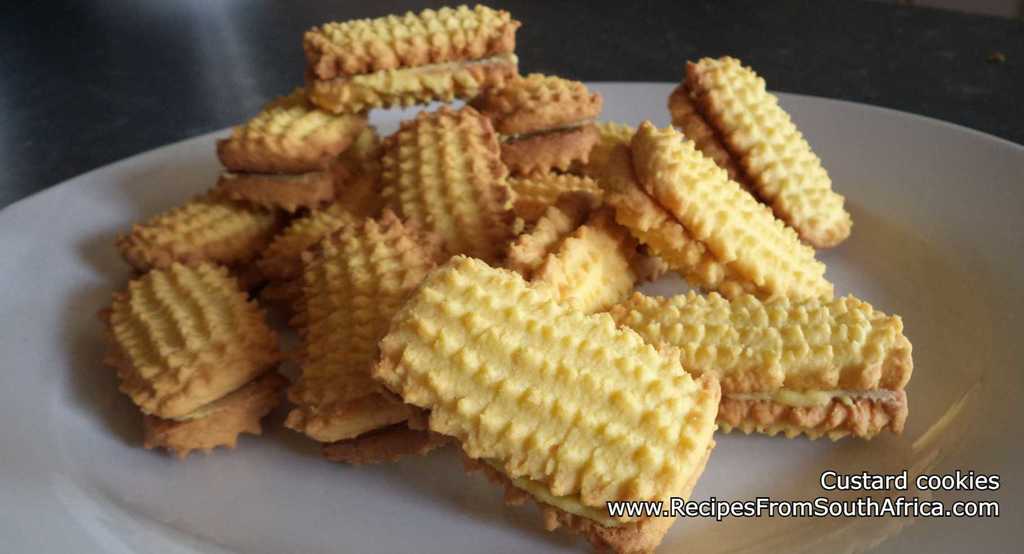 There are not many things that are as tasty and enjoyable as a wonderful cookie. They need to crumble the right way, not be too hard or soft, just right. They have to be perfect to dunk in your tea or coffee, keep it's shape and not fall apart when you dunk them, but also soft enough to eat without dunking.
The perfect cookie I found that is best for all occasions to eat with or without dunking is the custard cookie. This must be one of the best inventions ever. It is so soft and crumbly, but the filling gives it a little crunch. The taste is so good that you will want to go back for more.
The trick with baking them WELL is make sure they bake long enough. If you remove them from the oven too early they will be too soft and just disintegrate when you eat them. If you bake them too long they will burn so you don't want that either. You need to keep them in long enough to give a beautiful colour and make them just a little harder. They then melt in you mouth when you eat them.
The taste of custard it very strong, but also subtle at the same time. The addition of corn flour to the flour makes it so lovely and crumbly, but also soft enough to eat and enjoy. These are beautiful cookies and you will not be disappointed.
If you are looking for this specific recipe or recipes of wonderful South African cookies, then have a look at my book sales page… You can get the cookie recipe book or the full e-book with many South African favourites. We also have a Gluten Free version available…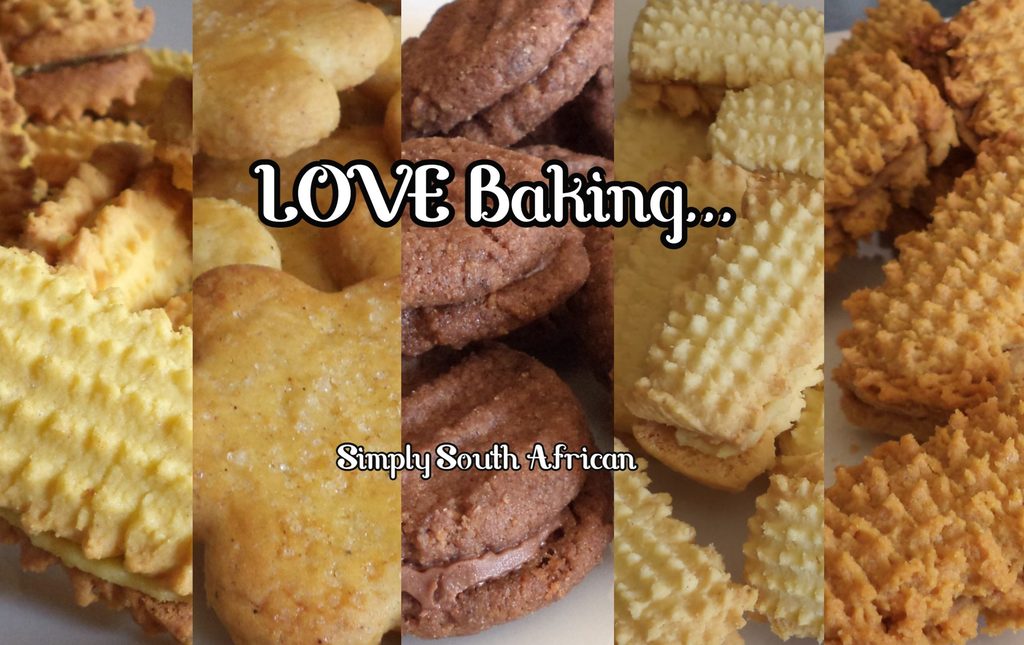 Vandag wil ek so ietsie skryf oor die lewe, ons liefde, die mis van jou land. Met Covid wat so 'n ongelooflike invloed op ons lewens het, het ons nog nooit so afgesny van ons families gevoel nie. Ons huisgesinne is soveel nader aan mekaar, ons sien mekaar meer, praat heerlik en die tyd wat ons saam kon deurbring die laaste 2 jaar was en is nogsteeds ongelooflik. Dit is egter die uitgebreide familie wat ons nie kan sien nie.
Die feit dat niemand na en van Suid-Afrika af mag vlieg nie maak dinge soveel moeiliker vir almal. So baie Suid-Afrikaners bly oorsee, Australië, Amerika, Nieu Seeland, Engeland en so kan die lys aangaan… Die belofte van ons sal mekaar elke jaar sien, ons sal kom kuier, julle kan kom kuier… Nie net is pryse onbekostigbaar nie, maar niemand mag vlieg nie. Wat 'n lang tydperk om nie jou ma of pa se hande om jou te voel nie, om hulle nie in persoon te sien nie, nie net gou kan oorstap om hallo te sê nie. Hoe moeilik is dit om nie by broers, sisters en beste vriende te kan gaan kuier nie, jou kinders om nie hul neefs en niggies te sien nie? Onthou, neefs en niggies is jou eerste vriende, mense wat jou aanvaar soos jy is…
Gelukkig is daar sosiale media, whatsapp is natuurlik die sleutel tot baie dinge. Ons kan mekaar ten minste sien en hoor, sien hoe dit gaan eerder as om net te raai. Dit is lekker om te gesels en vir my ma te wys wat ek bak, of om haar te kan bel as ek 'n vragie het oor 'n resep wat ek vergeet het, of nie verstaan nie.
My volgende uitdaging is om koeksisters te bak. Dit klink na so 'n groot storie. Het BAIE lank laas my eie gebak en my ma het my nog gehelp. So binne die volgende paar weke wil ek bak. Ek sal eers net 'n bietjie bak. Die enigste probleem is dit gaan 'n 2 dag proses wees. Eers die stroop voorberei die aand voor die tyd en die die deeg die volgende oggend. Dan sal ek die middag bak. Ek sal julle op hoogte hou oor hoe dit uitgedraai het 🙂
Vir nou wil ek julle net herinner dat as julle so sit en die hartseer oorval julle, 'n traan rol oor jou regter wang terwyl 'n klein glimlaggie aan die linkerkant van die mond pluk, dan moet jy net eenvoudig jouself oorgee aan die oomblik, bietjie huil en net stil sit en onthou…. dan moet jy opstaan en vir jouself 'n heerlike Suid-Afrikaanse resep soek en dit bak. Dan spoel al die herinneringe oor jou terug soos 'n golf van toe jy 'n kind was. Bak wat jou ma sou gedoen het.
As jy opsoek is na iets heerlik, maak gerus 'n draai op my Amazon blad en sien of daar iets is waarvoor jy lus is 🙂